Celebrating Valentine's day can sometimes become much of the same. This year we changed up a few things. First, we started the day with a Valentine breakfast which we have never done before.
We had strawberry pancakes shaped like hearts and pink milk. We ate on red plates and had heart name tags on our chairs. Second, I didn't expect to have the doorbell ring after lunch, only to find the hubs standing on the porch with a dozen roses. It was a very pleasant surprise.
Third, in elementary school land Valentine's day is celebrated on the 13th instead of the 14th. (Who knew?) So the annual Valentine's day manner's tea was celebrated yesterday. Mase looked pretty slick:
Fourth, the hubs and I tried out a Valentine buffet instead of me cooking up a holiday meal.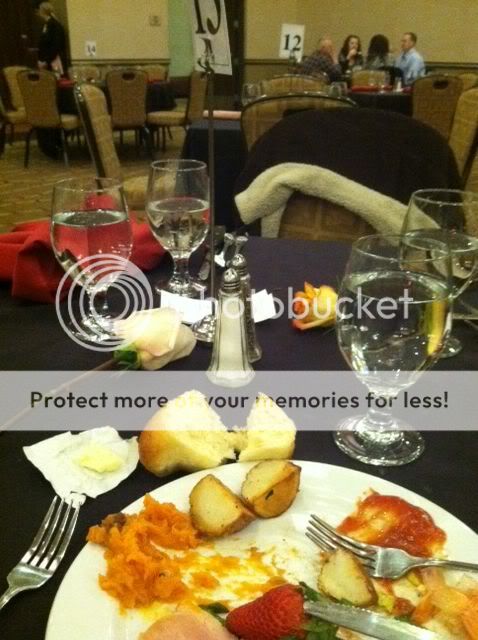 Yes, I was alone when I snapped the picture. Only because I didn't want to subject the hubs or our friends to a during-a-buffet-dinner picture when you are feeling besotted by food. And they were off filling up their second plateful. But what I want you to see in this picture is the women were handed a rose before we were seated. We thought that was a nice touch before stuffing our faces.
We did do a couple of things which have become tradition. We were sure to make our favorite sugar cookies.
This actually started with my grandma. She would make one for each grandchild every year for Valentine's day. It would have our name written on it with icing and decorated all fancy. I'm not as fancy with my cookies. We stick with the hot pink icing and call it good.
And we read this book every year:
It is still my favorite Valentine book.